WHAT IS THE DERPWOOD?
The Derpwood, also known as Derpwood Media, is a digital online multimedia production and distribution company. It is our mission to connect, create and inspire through play. Our aim is to create and nurture a community for nerds, by nerds, and continue to popularize fandoms of all kinds without fear of persecution or disruption.
OUR BEGINNINGS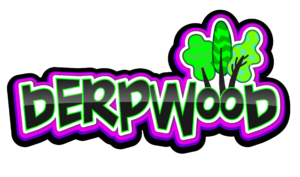 The Derpwood is a community for light-hearted nerds, geeks, derps, and folks who enjoy imperfection. What began as a fun name as a riff on the "Northern Mirkwood" where Legolas of LOTR fame is from, our very own Gregolas began calling his streamer community the Derpwood. What started as a jest has become a true community, filled with positive and supportive folks who have banded together around their love of all things nerdy.
What is nerdy? That could be anything from video games to movies. From books to Dungeons & Dragons. Whatever your fandom we openly invite anyone who enjoys a safe and positive space, to share ideas, creative thoughts and genuine good times.
Moving into 2020 a group of unlikely adventurers got together to start the Dungeons, Dragons & Dice show. It began as a few folks getting together to play RPGs online and has evolved into the start of a multi-platform entertainment community. From Dungeons & Dragons actual plays, the likes of Critical Role fame featuring Matt Mercer and team, to video game live streams on Twitch.tv; all the way to cosplay builds, making dice, and even creating fantasy styled fun recipes for you to enjoy, The Derpwood is a community of every-nerds enjoying their passions and hobbies together.